언더인테리어 (2009)
설치, 811x717cm,
바닥에 검은 방수천 설치 후 물을 채움
지하저널 (2009)
설치, 310x150cm,
면천 위에 수성싸인펜, 나무 프레임 ,형광등, 고무조각
(바닥에 닿은 천을 따라 올라온 물기는 시간이 지나면서 수성사인펜을 위로 번지게 만든다.)
싸구려 경고 (2009)
물 위에 비디오 프로젝션, 00:02:15
(맥주병을 바로잡으면 간단히 손에 들고 마실 수 있는 흔한 술처럼 보이지만, 거꾸로 잡으면 순식간에 위협적인 제스츄어로 변한다. 비디오에서 이 행위는 서울을 배경으로 반복된다.)
젖은 기록 (2009)
설치, 316x283cm,
천장 회칠과 곰팡이, 나무 프레임, 형광등, 고무조각
(유난히 곰팡이가 많이 핀 천장 위로는 1층 식당의 주방이 위치해 있다.)
*공간 안에 있었던 오브제들도 전시를 위해 치워지거나 가려지지 않았으며, 원위치에 그대로 놓인채 전시되었다.
-
Under Interior (2009)
Installation, 811x717cm,
black waterproof cloth, fill floor with water
Basement Journal (2009)
Installation, 310x150cm,
Hand written text with water pen on cotton, wooden frame, rubber and fluorescent lamp
(Over time, as the cloth draws water up, the marker gets smeared upwards.)
Cheap Warning (2009)
Video projection on the water, 00:02:15
(If you hold a beer bottle the right way, it looks just ordinary, just as if you could drink from it right away. But if you hold the bottle the other way around, it suddenly turns into a threatening gesture. The action is repeated with the cityscape of Seoul in the background.)
Wet Document (2009)
Installation, 316x283cm,
limewashed moldy ceilling, wooden frame, fluorescent lamp
(Right above the moldiest part of the ceiling is the kitchen of the restaurant on the first floor.)
*Instead of removing or covering them, we just exhibited the objects untouched in the show.
-
Photo by 백경원 kyungwon Baek
-
Under Interior_ a view of the installation
Under Interior_ a view of the installation
Under Interior & Basement Journal_ a view of the installations
Basement Journal_ detail
Basement Journal_ detail
Basement Journal_ detail, reflected on the water
Basement Journal_ a view of the installation
Under Interior_ a view of the Installation
Under Interior_ detail, three chairs and a clock
Under Interior_ a view of the installation
Wet Document_ detail, reflected on the water
Wet Document_ detail
Wet Document_ a view of the installation
Under Interior & Cheap Warning_ a view of the installations
Cheap Warning_ a view of the installation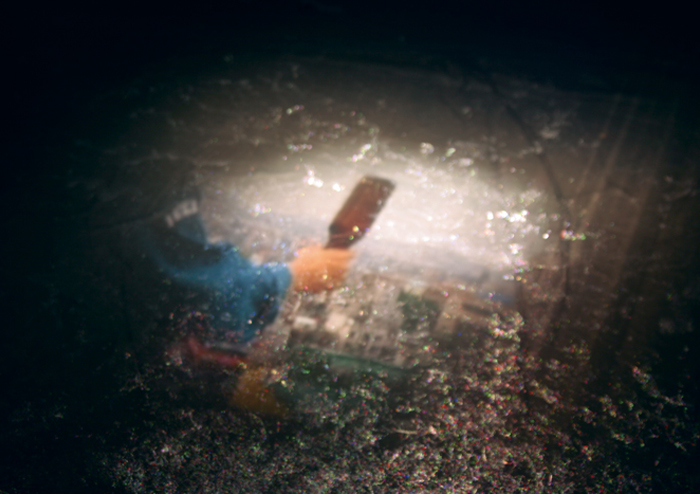 Cheap Warning_ a view of the installation
Under Interior_ detail, a shield-like mirror
Under Interior_ detail, a stove and a clock
Under Interior_ detail, three fans
Under Interior_ detail, an oblong mirror
Under Interior_ a view of the Installation
Under Interior_ a view of the installation